Image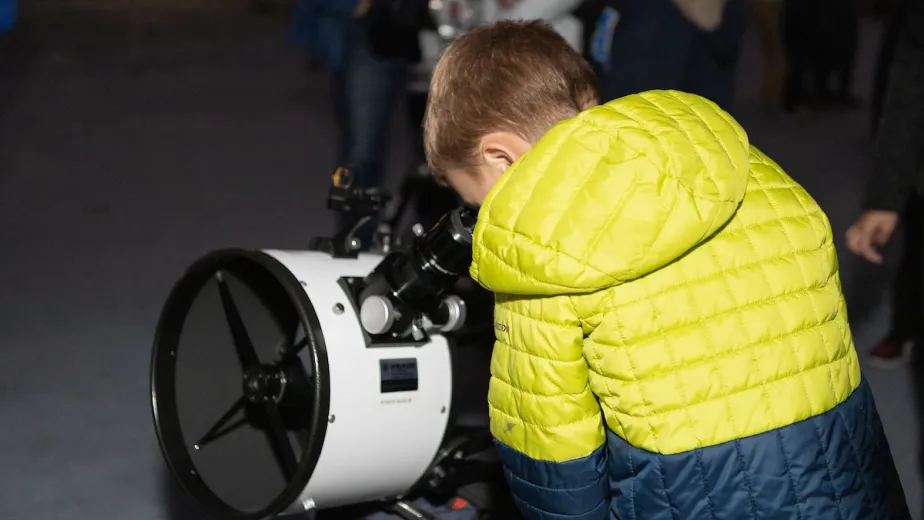 Free Fridays: Astronomy Night
Event Information
| Date & Time | Price | Location |
| --- | --- | --- |
| Friday, September 29, 2023 | 5:00 PM - 9:00 PM EDT | Free | Intrepid Museum West 46th Street New York, NY 10036 |
About this event
Astronomy Nights are FREE and feature fun-filled and educational experiences for the whole family, including talks from leading scientists and activities & demos led by Museum educators. Local astronomers will be on hand with their high-powered telescopes to help visitors navigate the night sky and answer questions about astronomy and stargazing. Guests are welcome to bring their own binoculars or look through the telescopes of the experts.
Schedule:
5:30 PM - 7:30 PM - Families and visitors with young children are invited to take part in drop-in activities. Activities include:
Astronaut Self-Portrait: Create a portrait of yourself as one of the next astronauts to go to the Moon.
Mission Medallion: Create a commemorative medallion for a future space mission.
5:30 PM - 7:30 PM - Breath of Fresh Air: Guests will do a small science experiment to learn how astronauts clean CO2 out of the air they breathe in space.
6:00 PM & 7:00 PM - Poof! Life in a Vacuum Demonstration: Discover the importance of the Earth's atmosphere and why astronauts need to wear spacesuits. Using a bell jar and vacuum pump, Museum educators will mimic the vacuum of space and its effect on objects.
6:30 PM - 7:30 PM - Special Featured Guest Discussion: The talk will take place in the Intrepid Museum's Space Shuttle Pavilion. Live streaming of the conversation will be available if you can't make it in person to Intrepid Museum. View the live event on Facebook or YouTube.
7:00 PM - 9:00 PM - Telescope viewing with observers from the Amateur Astronomers Association and Unistellar. Backed by partnerships with renowned scientific organizations, such as NASA and SETI Institute, Unistellar contributes to cutting-edge research on astronomical phenomena, including exoplanets, asteroids, comets, and more. (Weather Pending)

* American Sign Language (ASL) interpretation will be available for select Intrepid Museum demonstrations, featured panel, and telescope viewing on the flight deck.
Doors will open promptly at 5:00 PM, Last entry to the Museum is at 8:30 PM (doors subject to close earlier, entry is not guaranteed). All visitors must enter through the Welcome Center to receive a ticket prior to entering the Museum. The Space Shuttle Pavilion will open at 6:00 PM.
Funded by: The Virtual Astronomy Live is supported through a NASA Cooperative Agreement awarded to the New York Space Grant Consortium.
The program is also supported, in part, by the New York City Department of Cultural Affairs in partnership with the City Council, and the New York State Council on the Arts with the support of the Office of the Governor and the New York State Legislature.