Image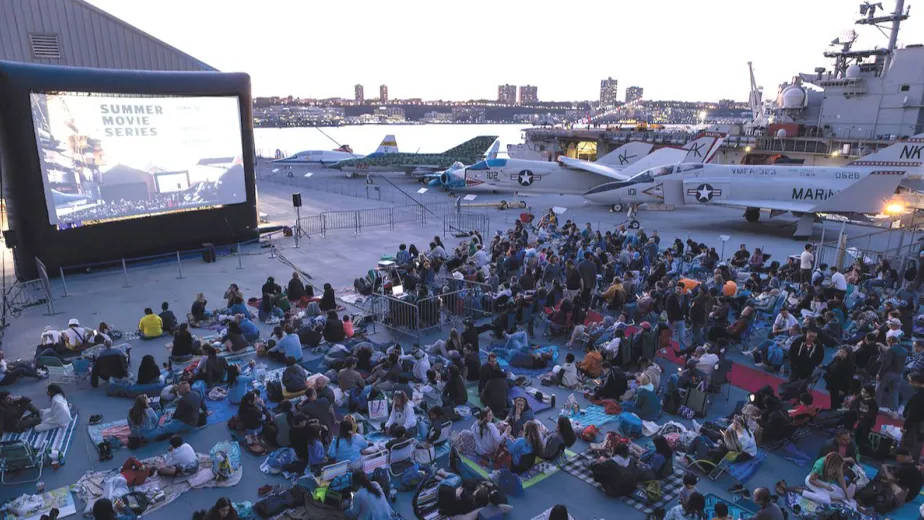 Free Fridays with Movie Night
Event information for 2024 Intrepid Summer Movie Series
| Date & Time | Movie/title | Tickets | Price | Location |
| --- | --- | --- | --- | --- |
| June 28, 2024 | 7:30 PM - 9:30 PM EDT | TBD | Available | Free | Intrepid Museum West 46th Street New York, 10036 |
| July 26, 2024 | 7:30 PM - 9:30 PM EDT | TBD | Available | Free | Intrepid Museum West 46th Street New York, 10036 |
| August 23, 2024 | 7:30 PM - 9:30 PM EDT | TBD | Available | Free | Intrepid Museum West 46th Street New York, 10036 |
About This Event
Free Movie Nights are back at the Intrepid Museum! Celebrate the museum's new exhibit "Apollo: When We Went to the Moon" with special "moon" themed films. All movies begin at sundown
FREE FRIDAY INFORMATION:
Doors will open promptly at 5:00 PM, Last entry to the Museum is at 8:30 PM. All visitors must enter through the Welcome Center to receive a ticket prior to entering the Museum. Entry is not guaranteed and is subject to capacity. Doors may close earlier. Different areas of the museum may close earlier than 9:00pm or will be closed during Free Fridays.
Current and former service members and their guests are invited to use the Member line for priority entry and access to Cat Shot Café for free snacks and drinks. No registration required.
MOVIE NIGHT GUIDELINES AND HELPFUL TIPS:
Seating is available on a first-come, first-served basis and space is limited.
Guests are invited to bring lawn chairs, picnic baskets and blankets to view the films outdoors, free of charge, on a huge inflatable screen on the flight deck.
Light concessions will be sold onsite, and visitors are encouraged to bring their own food and non-alcoholic beverages.
Alcohol is not permitted.
All exits are final; there is no reentry allowed.
Movie will begin at sunset.
The Space Shuttle Pavilion will close at 8:00 PM
The bridge will be closed during free Fridays.
All movies will have open captions.