Awards
The Intrepid Museum has historically presented a series of special awards to recognize outstanding individuals. These include national and international heads of state, military and corporate leaders, elected representatives and exemplary citizens.
Image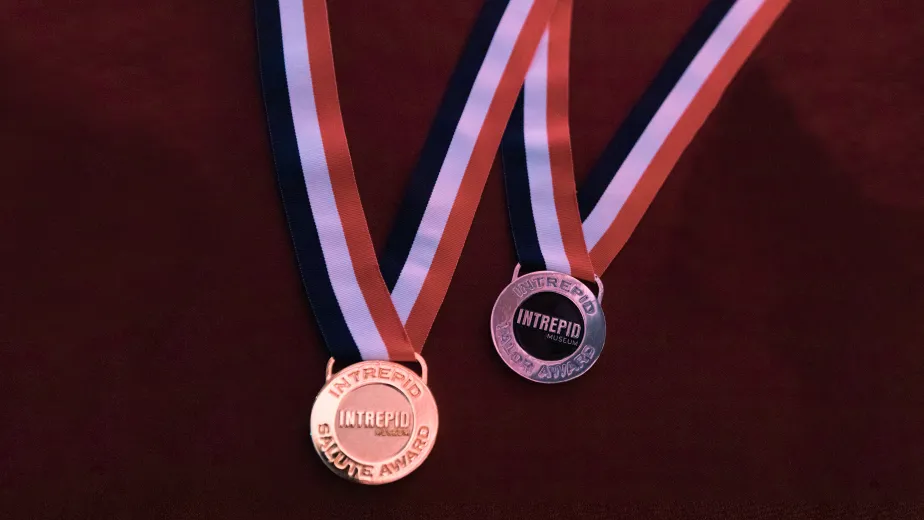 Honor Those Who Go Above & Beyond
Explore the various awards we present:
The Intrepid Freedom Award
The Intrepid Freedom Award is presented to a national or international leader who has distinguished himself in promoting and defending the values of freedom and democracy, the core beliefs of our nation.
The Intrepid Salute Award
The Intrepid Salute Award is presented to an individual in recognition of his business achievements and support of important philanthropic activities.
The Intrepid Salute Award for the Performing Arts
The Intrepid Salute Award for the Performing Arts is presented to an organization in recognition of talent and achievement in public performance.
The Zachary & Elizabeth Fisher Award for Patriotism
Named for the founders of the Intrepid Museum, the Zachary and Elizabeth Fisher Award for Patriotism recognizes individuals who have dedicated themselves to the service of our nation and whose patriotic accomplishments have been exemplary.
The Intrepid Leadership Award
The Intrepid Leadership Award is presented to individuals and organizations whose determination, dedication and outstanding moral character have contributed to the greater development of our nation.
Unique Awards
The Museum has recognized several individuals with unique awards, recognizing their particular contributions to the mission of the Museum.
Hometown Heroes Award
Recognized for their outstanding contributions on Hometown Heroes Day, the Museum honors members of the tri-state area whose selfless efforts in the field of community service have earned them the distinction of being called "Hometown Heroes."
Intrepid Lifetime Achievement Award
The Intrepid Lifetime Achievement Award is presented to an individual for lifelong and pioneering achievements in their career or field of endeavor and who has displayed a long-term commitment to supporting others.