Be a Part of Something Bigger
Volunteer with Us
Volunteers share the history and significance of our collection, provide assistance and customer service to visitors and work to preserve important historical artifacts. When you become a Museum volunteer, you're joining a dedicated team that shares similar interests and loves to learn new skills while gaining a greater understanding of history, science and innovation. While we encourage all military veterans to apply, you need not have served to volunteer!
Image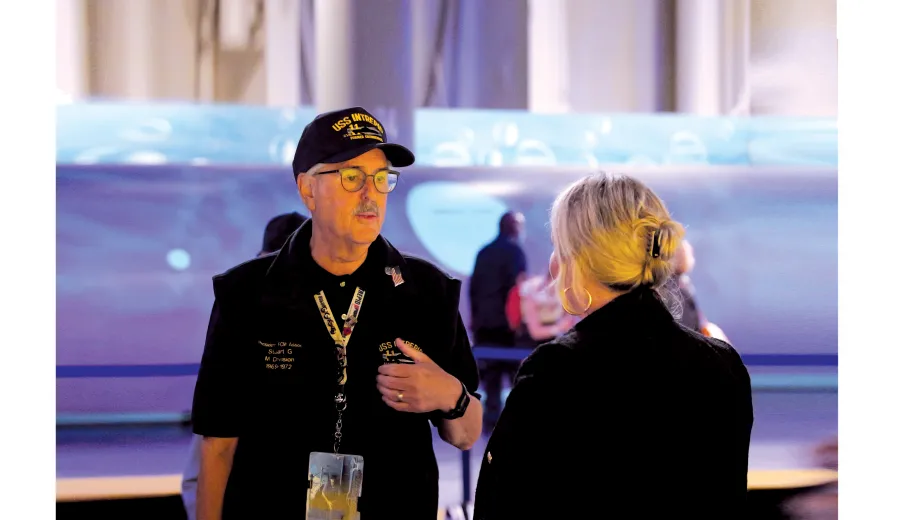 Available Volunteer Positions
Administrative Services
Because of the Museum's high profile, vast connections and consistent involvement with the community, there is much to be done behind the scenes. A volunteer in an administrative position will assist with projects that could include filing, mailing, labeling and data entry
Aircraft Restoration
Restoration volunteers help maintain and restore the Museum's aircraft collection through manual labor, such as painting, sanding and riveting. The majority of restoration work is done during the warmer months because the restoration area is on the flight deck. This position reports to the Aircraft Collections Manager. Prior knowledge of metalworking, painting, sanding or experience with aircraft is preferred. This position is only available during regular business hours, Monday through Friday.
Exhibit Explainer
Exhibit Explainers work directly with Museum visitors, sharing the history of Intrepid and information about Museum exhibits. All new explainers receive detailed training materials and work with staff/volunteers to learn all necessary information. At the conclusion of your training period, you'll be stationed throughout the complex, including on Intrepid's bridges, flight & hangar decks, aboard the submarine Growler and inside the Space Shuttle Pavilion. This position requires a high level of customer service and willingness to engage with the public.
 
Greeter
Greeters welcome visitors aboard Intrepid, recommending ways to explore the ship & complex. Greeters also help answer questions about wayfinding, tickets, daily events/programs and more. An outgoing personality is a must for this position. 
 
Information Desk Representative
Information Desk Representatives provide efficient responses to all visitor inquiries and deliver unparalleled customer service. Training will provide you with knowledge of the Museum, including wayfinding, available programming & services, exhibits, attractions, special events and more. While not required, the ability to speak multiple languages is a plus!
Honor, Educate, Inspire
Volunteers play an integral role in helping deliver the Museum's mission: honor, educate and inspire. That's why we're proud to offer a wide range of benefits, including:
Discounts in Museum gift shops and cafes
Opportunities to attend lectures (at the Museum & off-site)
Access to resources in the volunteer ready room
Reciprocal admission to other museums in NYC
Invitation to the Volunteer Recognition Dinner, Volunteer Holiday Party & other events
 
Former Crew Members
We welcome all Intrepid and Growler former crew members—and their families—to visit the Museum and become part of our volunteer family. We are honored to preserve their legacy through the incredible artifacts they donate and the personal experiences they share with visitors.
Volunteer With Us
Please submit a volunteer application by providing the following information. If the Museum has an opening that matches with your qualifications and availability, you will be contacted via email or phone to set up an in person interview.