Image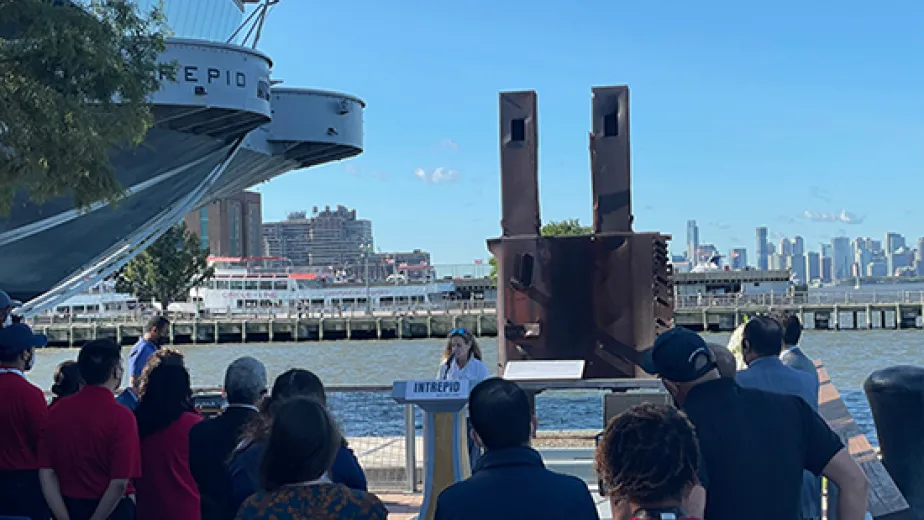 Tomorrow marks the 20th anniversary of September 11, 2001, a day of horrific attacks on our nation, a day we will never forget, and where here in New York, the Twin Towers, symbols of our great city, were destroyed.
The Intrepid Museum today held a private ceremony to observe the anniversary in front of the Museum's 9/11 Memorial at the southwest end of Pier 86, which consists of pieces of steel recovered from the World Trade Center. Measuring 12-feet tall and weighing 3,000 pounds, the two parallel I-beams point skyward, a near replica of how the Towers once stood in Lower Manhattan.
Museum President Susan Marenoff-Zausner and Co-Chair Bruce Mosler were joined by Museum employees and representatives from the USS New York and Navy Region Mid-Atlantic. A wreath was laid in the Hudson River in memory of the 2,977 innocent men, women, and children who died on September 11, 2001, the thousands of first responders who lost their lives due to 9/11-related causes, and for those who have fought for our nation in the twenty years since.
The USS New York has a special connection to the events of September 11. The name New York was bestowed on the vessel in the aftermath of the attacks, and family members of the victims and members of the NYFD and NYPD participated in its christening. Its commissioning was held at Pier 86 12 years ago, and 7.5 tons of steel from the rubble of the World Trade Center were used in the construction of the ship. The ship itself is hallowed ground.
The Intrepid Museum also played a crucial role following that tragic day, serving as a replacement headquarters for the FBI's New York Field Office, which had been located at the World Trade Center. Five hundred agents worked around the clock aboard Intrepid coordinating a massive investigation. In addition to FBI command and control operations, the Museum complex also supported the Federal Emergency Management Agency, state, and local emergency responders.
Two decades later, the lasting legacy of public service has become one of the most appropriate ways to honor the heroes and victims. For 20 years, individuals and organizations have made it their mission to turn a day of evil into a day of good. We are proud that tomorrow and Sunday, the Intrepid Museum will once again host an important service project - the 9/11 Day Meal Pack – with the goal to pack 2,500,000 meals across ten cities for people in need.
Image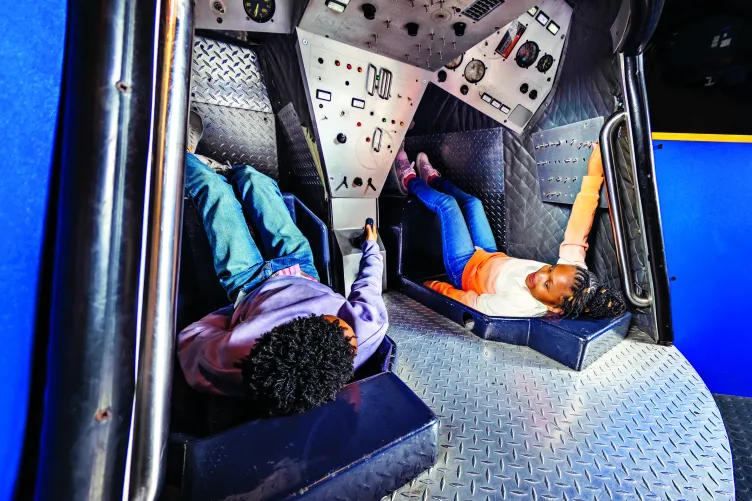 Visit
Want to visit the museum? We would love to have you! Find out all about our offerings here and plan your trip today.
Image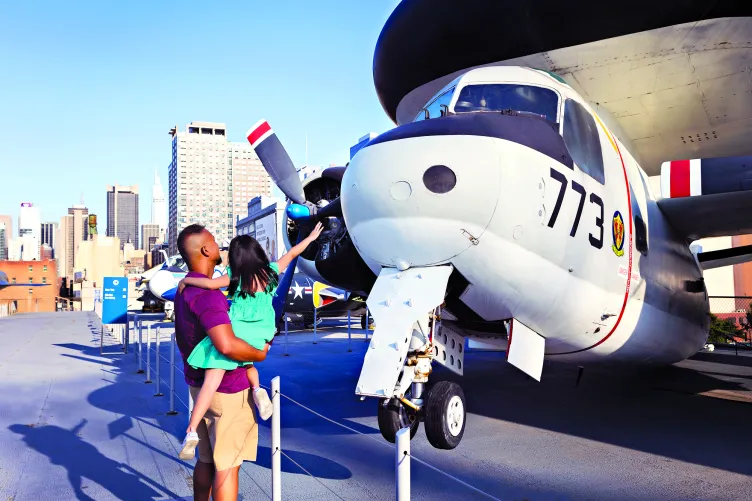 Membership
If you join our membership program you can visit the museum any time! Plus enjoy many membership perks at a discounted rate.