Image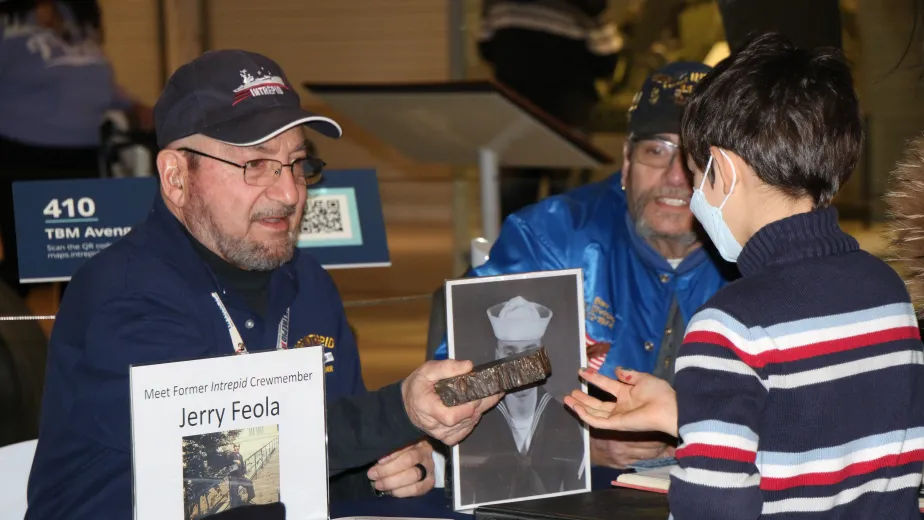 Former Crew Members
Our former crew member community is at the heart of everything we do, and we are honored to preserve their legacy for future generations. Whether donating incredible artifacts or speaking with young people about their experiences, they continue to serve and make an impact.
Former Crew Member ticketing policy
All Former Crew Members receive complimentary tickets for themselves and up to five guests. Each additional guest receives a $7 discount. For more information contact Kevin Power at kpower@intrepidmuseum.org or call (646)-381-5272.
Oral History Project
The Intrepid Museum's oral histories are a core component of our collections and are used to help educate generations of visitors. These interviews vividly depict triumphs, tragedies and even occasional comedies, while infusing passion and humanity.
Join a Program
We offer a range of engaging and completely customized programs for veteran service organizations, vet centers, VA hospitals and military family organizations.
Make Your Mark
The Honor Wall allows friends, family and loved ones to celebrate their heroes and memorialize their service through a physical dedication aboard Intrepid.
Donate an Artifact
The Intrepid Museum collects artifacts documenting the history of the aircraft carrier Intrepid, the supersonic aircraft Concorde, the submarine Growler and the space shuttle orbiter Enterprise, which allows us to share the extraordinary history with future visitors.
STAY IN TOUCH
The best way to stay in touch and learn about upcoming programs and exhibitions is to sign up for the Former Crew Member Museum's e-newsletter.